Liberty Aviation Museum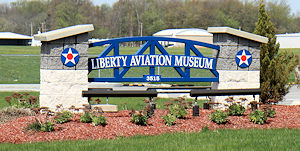 The Liberty Aviation Museum was established on December 7, 1991 with a handful of dedicated volunteers to showcase WWII aircraft. In 1996, they began planning for a facility that included a hangar and museum along with a 1950s era themed Diner. In 2011, their dreams of a permanent place to call home became reality with the announcement that a Museum/Hangar facility would be built at the Erie-Ottawa County Regional Airport in Port Clinton, Ohio. The museum facilities opened to the public in July, 2012, and was heralded by the arrival of their newly refurbished B-25, "Georgie's Gal."
As with many aviation museums, the life blood of the organization is its volunteers. Few museums could afford to operate without the dedicated efforts of their volunteer staff. These people donate their time and skills to serve as tour guides, clerical/administrative staff, craftsmen and technicians, and a myriad of other functions. When you visit a museum, be sure to thank them for their work. Without them there would be no museum.