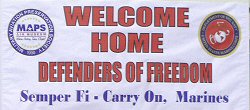 On Friday, October 7, 2005, 140 Marines and Sailors of the Akron, Ohio based Weapons Company, 3rd Battalion, 25th Reserve Marine Regiment returned home from seven months in Iraq. They received a warm pre-dawn welcome home from hundreds of family members, friends, and well wishers at the MAPS Air Museum located at the Akron-Canton Airport.
The 3/25 Marine Reserve Battalion has companies in Brook Park, Akron, and Columbus, Ohio; Buffalo, New York; and Moundsville, West Virginia. The 1,200 strong battalion lost 48 killed and more then 150 wounded during that seven-month deployment.
Some 160 members of the battalion's headquarters and service company received a similar welcome home from family members in Brook Park, Ohio on Thursday. They landed at Cleveland Hopkins International Airport and were greeted to a "wash down" by the airport's fire trucks.