San Diego, California
San Diego is the birthplace of California and is known for its mild year-round climate, natural deep-water harbor, extensive beaches, and long association with the U.S. Navy. The original inhabitants of the region are now known as the San Dieguito and La Jolla people. The first European to visit the region was the explorer Juan Rodríguez Cabrillo in 1542. In July 1769, Mission San Diego de Alcalá was founded by Franciscan friars. In 1821, Mexico won its independence from Spain, and San Diego became part of the Mexican state of Alta California. As a result of the Mexican-American War of 1846–1848, the territory of Alta California, including San Diego, was ceded to the United States by Mexico. The state of California was admitted to the United States in 1850, and San Diego was designated the seat of the newly established San Diego County.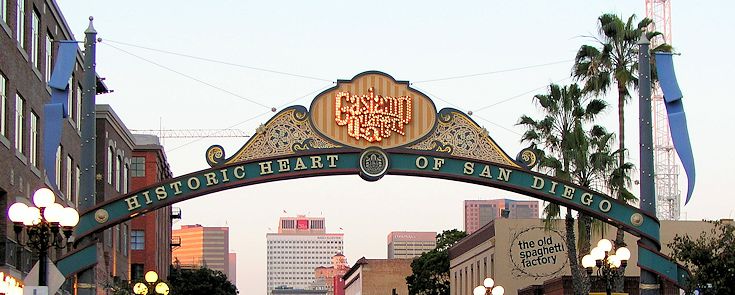 The majority of the photos in this section were taken in June, 2014, but a few are from an earlier visit in 2004. Also, the majority of the photos are of subjects taken from San Diego Bay, but there are some images from Point Loma and Old Town.